Immediately upon first glance at his 2017 Lexus RC F, a platform he chose for its own rarity as far as Japanese V8 sports cars go, you can certainly see what we mean. Wild and eye-catching graphics, custom wheels - everything on this build is designed in some way to let onlookers know: That's not OEM. That said, not everything is just about garnering attention. For Clanton, this look is more about paving his own path and dedicating his work to his own family heritage.
By now, unless you're blind, you've undoubtedly noticed that intense custom vinyl wrap. Printed by a 16p printer, multi-layered, and fully reflective with varying reflective elements throughout, Clanton takes pride in having designed this wild wrap himself to carry the aura of the build. Glowing in the sunlight and reflecting lights in the dark, the entire wrap transforms and changes depending on the lighting situation, but looks stunning at all times. The wrap was carefully and deliberately lined up over the amalgamation of carbon fiber exterior trims that transform the RC F's profile.
You may have also noticed that the reflective wrap doesn't reach the hood, and it leaves out top of the front fenders. This, of course, is by design. The hood itself is one of the build's highlights, and a frequent topic of conversation at shows. Underneath the artwork is a Seibon Carbon hood, but it's radically transformed thanks to multi-candy paint and ghosted designs. Over 50 hours of work took place to get the hood looking the way it is, and the theme blends nicely with the rest of the wrap that follows behind the front end.
At ground level, that theme continues with his stunning custom wheels, another 1-of-1 element. It took four months of back and forth research and development, but after all of that, Clanton landed himself a gorgeous set of 3-piece, 20-inch wheels of his own design. "The spoke design is what makes them unlike any other wheel," he tells us. "The spokes are Samoan spearheads, and the rest is the Filipino sun with spinning center caps. The wheel is multi-candy painted, combined with powder-coating which is a fusion process never done before."
All of this heritage-inspired exterior comes together in a truly head-turning fashion, especially when that custom exterior airs out over the custom wheels thanks to D2 Racing's air suspension system managed by Air Lift's 3P management. The dual 344c VIAIR tank setup is part of the elaborate trunk setup, which also features his Skar Audio and Mark Levinson combination audio system, and you'll find more of that themed interior in the cockpit with carbon fiber everywhere and eye-catching red upholstery and trim.
Being such a rare platform, aftermarket support for the RC F is limited to a narrow, albeit high quality, catalog of parts, and when you're trying to break the mold in every aspect of your build, it requires some tinkering. Chasing a unique exhaust note with a "beefy" tone, pun absolutely intended, led Clanton to combine an Akropovic exhaust with dual Varex mufflers. Of course, the noises this machine makes aren't strictly because of its cool exhaust. With forged internals, an RR Racing Motorsports carbon fiber intake, and a Zex Nitrous 200 shot for that extra little jam, the RC F puts down a respectable 740 horsepower and 430 lb-ft of torque at the rear wheels. Did you think this was all show and no go?
Despite winning countless awards, representing Team Hybrid both nationally and internationally, and continuing to leave show-goers in awe with his build, Clanton says his RC F is still a long way from being completed. He promises more mind-blowing custom work in the near future, so we'll be watching intently to see what comes next. Rest assured, whatever he does next isn't coming off the shelf.
---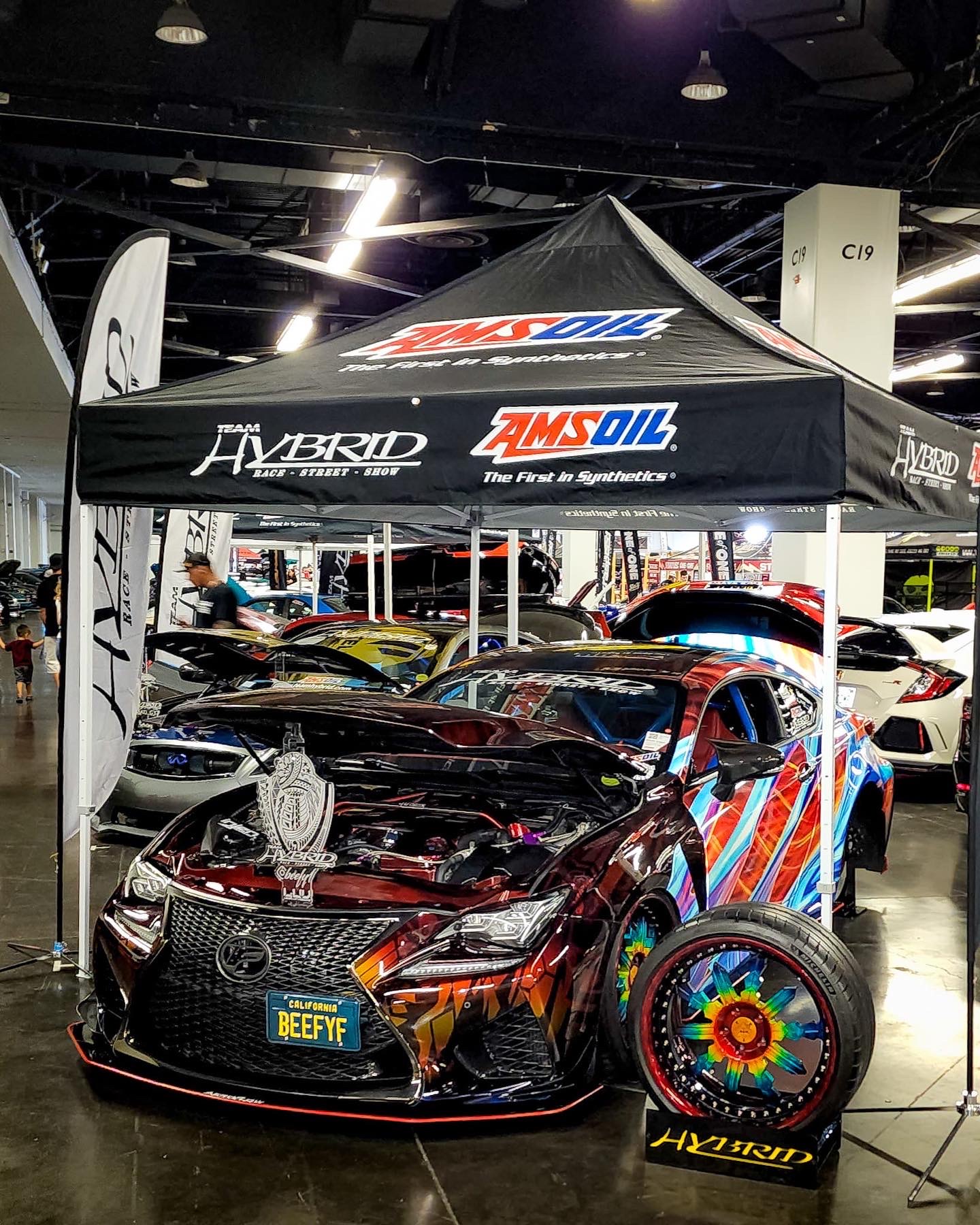 ESSENTIALS
2017 Lexus RC F
Location: San Diego, CA
Horsepower: 740 whp
Torque: 430 lb-ft
Club: Team Hybrid
SOCIAL
IG: @beefy1
ENGINE
Forged internals
Zex Nitrous 200 shot
RR Racing Motorsports carbon fiber intake
Full Throttle battery
Carbon fiber engine cover
HPS silicone radiator hoses
AMSOIL oil filter
EXHAUST
Custom Akropovic exhaust system w/ Varex mufflers
Carbon fiber 3.5-inch dual tips
WHEELS / TIRES / BRAKES
Custom 3-piece wheels - 20-inch
Michelin Pilot Sport 4S tires
Custom center caps
Brembo BBK
Slotted rotors
CHASSIS / SUSPENSION
D2 Racing air suspension
Air Lift Performance 3P air management system
VIAIR dual 344c compressors
Figs Engineering lower control arm bushings
RR Racing Motorsports carbon fiber front strut bar
EXTERIOR
Aeroflow Dynamics (front air splitter, side skirts, rear spats, front canards, rear diffuser)
Carbon fiber (side mirrors, mud flaps, air ducts, bumper extensions, rear spoiler, antenna, molding)
Seibon carbon fiber hood custom painted
Bens Auto Magic painted (hood, roof)
Wise Detailz custom triple beam headlights and turn signals
Custom back half reflective vinyl wrap
RR Racing Motorsports carbon fiber grille logo
Opt7 grille/underbody lighting
Heise LED (dual RGB wheel lights, grille light pods)
INTERIOR
Studio RSR roll cage
Carbon fiber (dash, consoles, dash cluster, seat inserts, molding, door pieces)
SoCal Garageworks (custom carbon fiber steering wheel, carbon fiber shift handle)
Pedal Commander
Custom (billet automotive buttons in glove box, dash buttons)
Starlight headliner
Blackvue dash cams
Fire extinguisher
Status Racing 4-point seat harnesses
Titanium F laser-cut seat emblems
Velour dash mat
Mat Metrics custom floor mats
Zex Nitrous (10-lb carbon fiber bottles (2), 2-lb passenger side bottle)
Custom wrapped air tank in trunk
Starlight trunk
Custom etched and designed glass in trunk
Opt7 interior lighting
AUDIO / MOBILE ELECTRONICS
Skar Audio and Mark Levinson 25 speaker combo
Skar Audio (10-inch subwoofers (2), open faced amplifier, 5.5-inch speakers (2))
Planet Audio capacitors (2)
SPONSORS
AMSOIL
Renegade Car Care Products
Full Throttle Battery
Pedal Commander
Level Up Visions
Blackvue Official Dashcams
NRG Innovations
Status Racing Seats
---
Photo Gallery
Photography by Juan Aguilar, and supplied by Team Hybrid.