High school can be a transformative time. Some get into a sport where they hit their stride, some dive head-first into academia, and others - like Joshua Stubstad and some of his friends - become enamored with cars, starting a life-long journey that would soon consume their waking life. With a crew of friends driving cars decked out with bolt-on mods, underglow, and booming audio systems, Stubstad jokingly refers to his old group of friends with their entry-level JDM cars as the "Florida guy version of Fast & Furious" back then. This is where all of them, particularly himself, would cut their teeth on the joys of tuner cars.
Not long after their local version of F&F had taken shape, Stubstad graduated from high school and promptly joined the US Air Forces. Parting from his original crew for a while, he was soon stationed in Germany where he drove a 2004 Mitsubishi Lancer Ralliart. Clearly the JDM dream stuck with him overseas. Unfortunately the Lancer was totalled in an accident, and Stubstad was soon off to his next destination, Iraq, in the middle of 2009. At this time, he ordered a Jeep and took a hiatus from the car scene.
Fortunately for him, destiny had other plans than to just let his passion fade from memory. A year later, his duty was switched to stationing in Okinawa, Japan. The automotive bug that started his passion in high school soon bit him once again, and he dove headfirst into building some of his dream machines. From a rally-themed 2000 WRX, to an overlanding style Toyota Hilux surf, and even a slammed Altezza, he explored various styles and platforms. By now, at least in hindsight, we could see Stubstad drifting further into Toyota's waters. It wasn't until he learned of the impending opportunity to import his dream car, the iconic 1993 Toyota Supra RZ you see here, that his rekindled automotive passion took flight.
With a clear vision in mind, Stubstad sold his beloved Altezza and eagerly waited for the Supra to be federally legal for importation. August 2014 marked the turning point as he fulfilled his dream and acquired his dream car. Initial modifications began with a quick-release and a set of Cosmis Racing wheels, igniting a transformation that would continue for the next four years. "Between UpGarage, part-outs, Yahoo Japan auctions, junkyards, and the two donor Supras I bought, I continued to upgrade and change build plans," he says. "During my time in Japan with the car, I went through four sets of wheels, three bumpers, two hoods, three different tail lights, and countless miscellaneous parts until I finally found my niche." While some may see this as a haphazard approach, it was a personal journey of trial and error, culminating in a profound understanding of his car and its capabilities.
Upon relocating to Vegas in 2019, Stubstad fatefully encountered members of Team Hybrid at a charity event. This serendipitous encounter led him to joining the team, and serving the last few years as an ambassador, a builder, and advocate for his local car scene. Over this time, he brought the Supra to its latest iteration, the one you see here.
From the outside looking in, his tastes are obvious. Exposed carbon fiber is everywhere, including the massive APR wing, and the entire car has been widened considerably with the help of Max Racing 30mm wide front fenders and Shine Auto Project rear 50mm overfenders. Rare touches like the Ganador mirrors and Ridox lips are sure to please any JDM nerds who are in the know. Work Meister S1 wheels, in a 3-piece variation, do the perfect job as one of the Supra's most iconic sets of wheels, and custom LED lighting brings a touch of modern engineering to a timeless classic. Visually, the car is a work of art.
Of course, it didn't start life as a strict show car, so naturally, that iconic 2JZ was treated to its fair share of modification. Up top thanks to a CX Racing manifold is a Garrett GT4094R turbo, which is supported by a GReddy intercooler and custom piping, and given leg room for extra boost with a GReddy PROFEC B2 EBC. Increased fuel demands are met by 1000cc injectors from Injector Dynamics, and an upgraded fuel system made up of Aeromotive and PHR components. All in, the 2JZ setup makes a respectable 700 horsepower at the wheels, lubricated by one of his favorite sponsors, AMSOIL, and their Defender Series synthetic 10W-30 Racing Oil.
Stepping inside the cockpit, you're met with Stubstad's favorite modification. An entire carbon fiber cockpit with a matching custom TRD steering wheel really puts you in the fighter jet mindset behind the wheel here. The driver's view is considered one of the most important facets of a build by Stubstad, so no expense was spared inside. Flush-mounted electronics in the custom purple carbon fiber interior trim pieces are a much appreciated touch here that goes the distance in making the interior feel special.
From top to bottom, and front to back, attention to details are evident - and that's part of the Team Hybrid ethos that brought him into the club in the first place. "Moving to Vegas and meeting Team Hybrid, my focus has shifted a bit more to a show car, but still doesn't stop me from taking it on the track and enjoying it more freely," Stubstad explains. "My biggest decision factor in not making it a single purpose build is that it's irreplaceable if something catastrophic were to happen to it. Can't blame me for that with this crazy market value. It is and always has been a multi purpose build: Race. Street. Show."
---
ESSENTIALS
DRIVER › Joshua Stubstad
LOCATION › North Las Vegas, NV
ENGINE › Toyota 2JZ-GTE 3.0L Turbocharged Inline-6
HORSEPOWER › 700 whp
CLUB› Team Hybrid
SOCIAL MEDIA
@supra_stubs
Photography by: Caden Underwood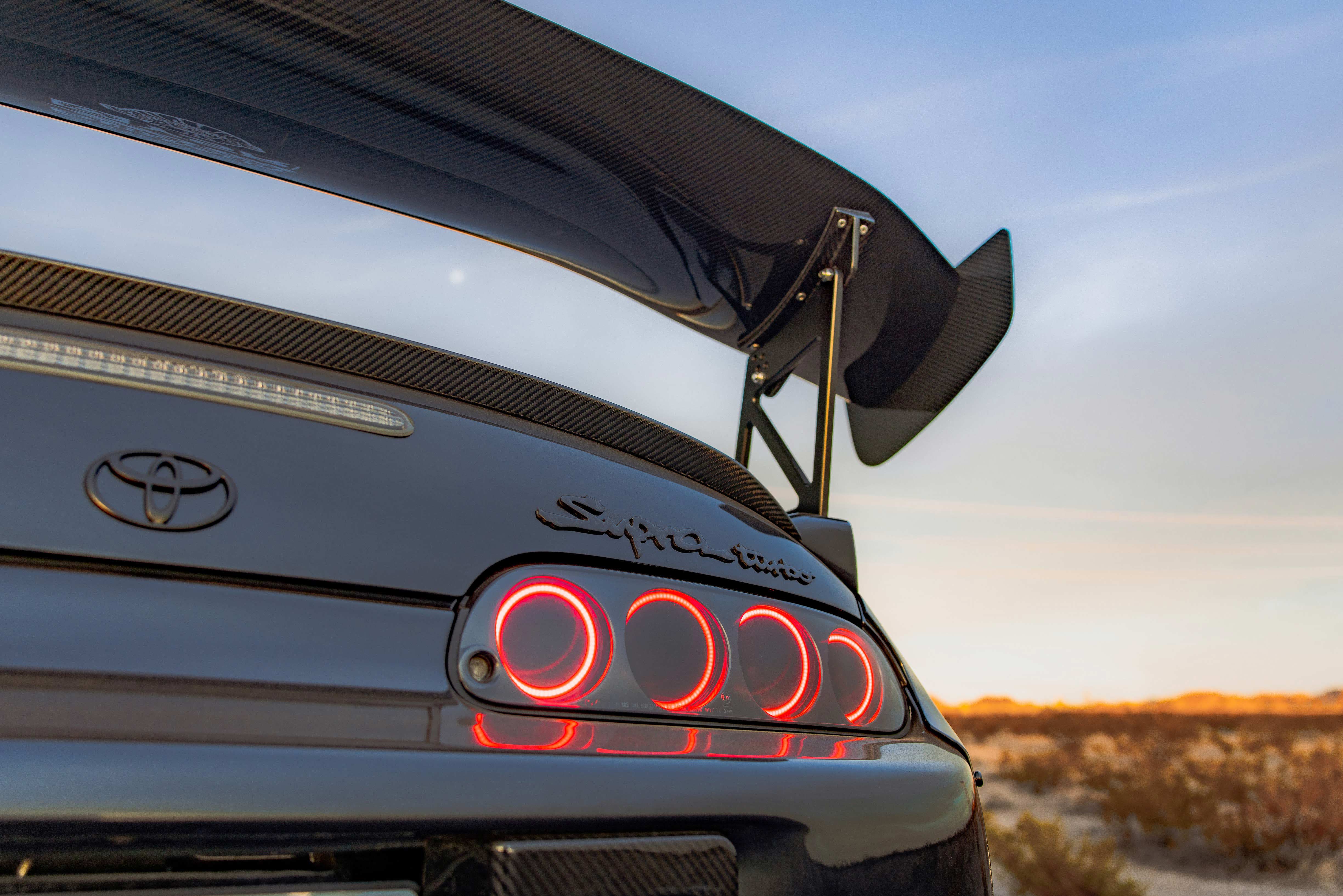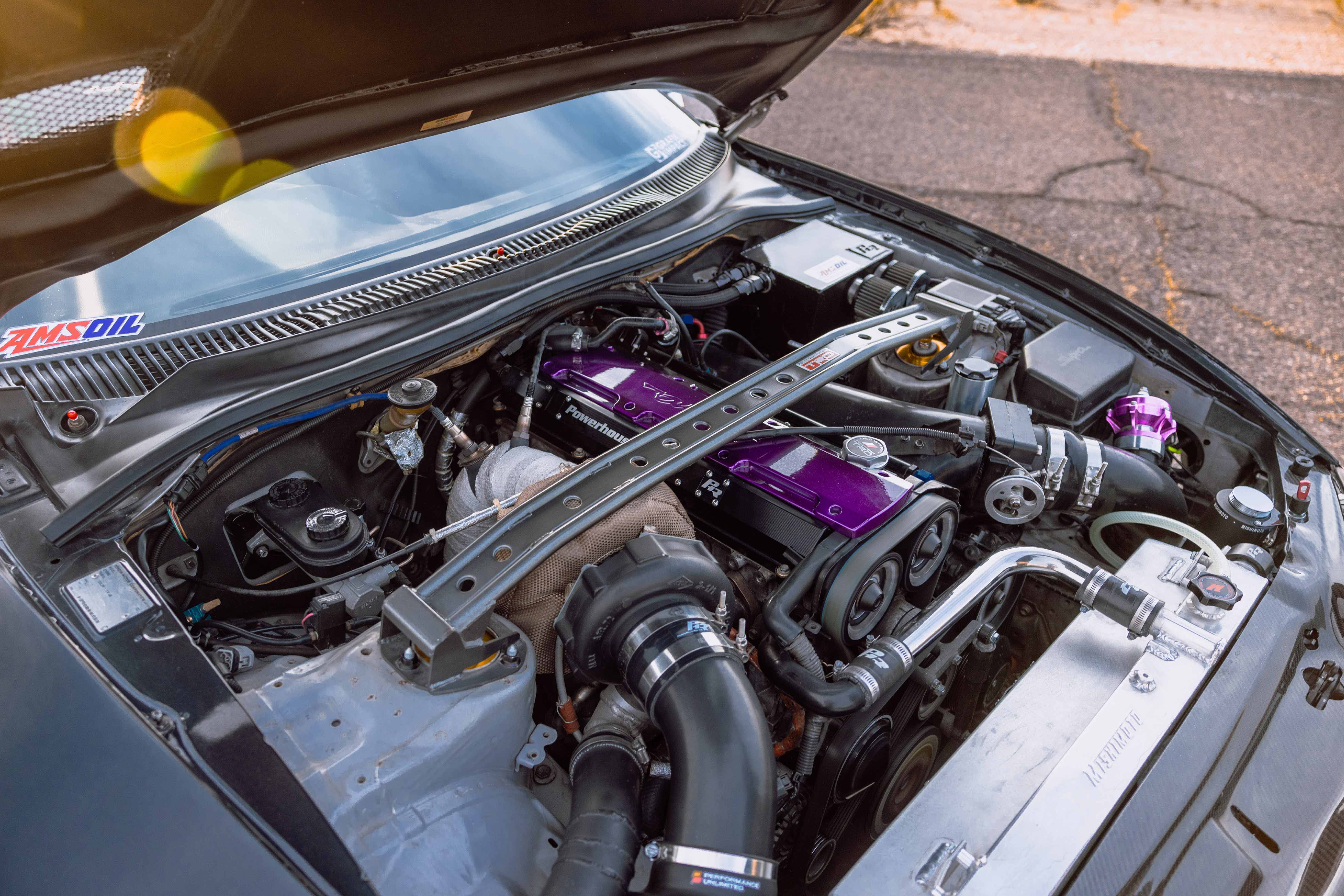 ENGINE
Garrett GT4094R turbo 1.06 A/R + GSC Power Division S1 cams (269) + ID 1000cc injectors + ARP head studs + BC (metal head gasket, Beehive titanium valve spring kit) + GReddy (4-row FMIC, PROFEC B2 electronic boost controller) + Custom intake manifold with 102mm throttle body + Custom intercooler piping + Aeromotive fuel pressure regulator + PHR (cam gears, billet valve covers/coil cover, power steering res, full engine pulley set, solid upper radiator hose, radiator brackets, breather tank, oil catch can, fuel rail, fan shroud) + Buck Performance radiator cooling panel + CPR engine belly pan + Mishimoto (radiator, coolant overflow tank) + Dual SPAL brushless electric fan kit + Walbro 450 fuel pump + Mechman 240 amp alternator + K&N air filter + Upgraded valve train + Haltech (wideband, Elite 2500 ECU) + HKS turbo timer + AMSOIL Performance oil filter
EXHAUST
Powerhouse Amuse Titan R1 3.5-inch titanium turbo-back exhaust + Custom 3.5-inch downpipe + CX Racing top mount exhaust manifold
DRIVETRAIN
Clutch Masters (FX850 twin-plate clutch, steel flywheel, hydraulic clutch release bearing) + Drive Shaft Shop 4-inch single piece driveshaft + Power House Racing billet diff bushing + Solid trans bushings + TRD transmission mount
WHEELS / TIRE / BRAKES
Work Meister S1 3-piece wheels - 18x9.5 +29 (f), 18x11 +31 (r)
Toyo Proxes R888R tires - 255/35/18 (f), 295/30/18 (r)
Pro Spec Imports billet Work Meister Supra center caps + Work Wheels lug nuts + Work Wheels valve caps + R1 Concepts Forged Series BBK (6-piston front calipers, 4-piston rear calipers, 2-piece drilled/slotted floating rotors) + Power House Racing steel brake lines + Wilwood proportioning valve + Brake booster delete
CHASSIS / SUSPENSION
Megan's Racing lower RCAs + TRD (sway bars, front strut tower bar) + Titan Motorsport roll cage + Yellow Speed Racing custom air suspension system + Power House Racing solid rear differential bushing + Air Lift Performance (3P management, 5-gallon air tank) + Dual Viair 444C compressors
EXTERIOR
Seibon carbon fiber vented hood + Rando Sports front bumper + Varis Ridox side skirts + Max Racing 30mm wide front fenders + Shine Auto Project (rear 50mm overfenders, front fender canards) + APR Performance HTC 500 carbon wing + Twin Z rear diffuser + Ganador mirrors + Ridox upper and lower carbon fiber hatch lips + Dress Up Bolts titanium hardware + Rear antenna and wiper shave + Lexus Smoky Granite Mica paint + Series 2 Supra (headlights, front markers) + Custom LED tail lights + A+ Autosound underglow + LED lighting conversion
INTERIOR
DEFI link system, boost, oil pressure, exhaust and water temp gauges + A+ Autosound interior lighting + Bride (XAXII seats, rails, floor mats) + Takada 4-point racing harnesses + TRD (modified flat-bottom CF steering wheel, gauge cluster) + Custom purple weave carbon fiber trim w/ custom laser-cut modifications + Flush mounted electronics + Räzo shift knob + Titan Motorsports roll cage/harness bar + Quick-release fire extinguisher mount + Battery relocated to the trunk + Custom (trunk setup, rear seat delete, upper glove box gauge pod) + JDM (black leather headliner, black carpet)
AUDIO / MOBILE ELECTRONICS
Kenwood double-DIN head unit + Rockford Fosgate (speakers, R600X5 amplifier) + Kicker L7I subwoofers + Custom sealed subwoofer enclosure + Antigravity batteries Lithium-ion T6/L2 racing battery
SPONSORS
AMSOIL + Mishimoto + R1 Concepts + Yellow Speed Racing USA + Antigravity Batteries + APR Performance + A+ Autosound + Prospec Imports + Supra LED Rears + The Carbon Lab LV + Socal Garage Works