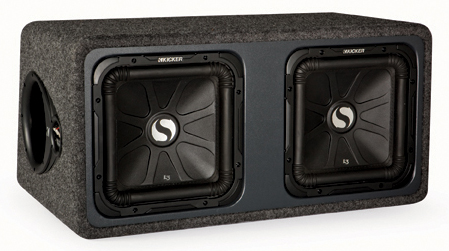 With KICKER's pulverizing, patented square subwoofer loaded inside sturdy single- and dual-sub boxes, the end result is intense.  Solo-Baric Sub Boxes loaded with Solo-Baric L3 Subwoofers present a simple way to upgrade a sound system and satisfy the most radical bass cravings in any vehicle.

Available in a dual-sub box, a single-sub model and a thin-profile box made especially for tight installs, Solo-Baric L3 never fails to provide the biggest KICKER bass available. Vented for ultimate volume, the loaded enclosures are designed with drastically rounded corners and internal bracing for strength, additional support and cosmetic appeal.

KICKER's newest solid-wood boxes are covered in plush, charcoal-gray carpeting. Designed with full-coverage back bracing fortified even further within the box, it makes for some of the sturdiest sub boxes money can buy.

The dual-sub DS12L3 and single VS12L3 Boxes feature the custom-designed, combo vent/terminal cup, where the impedance designator and oversized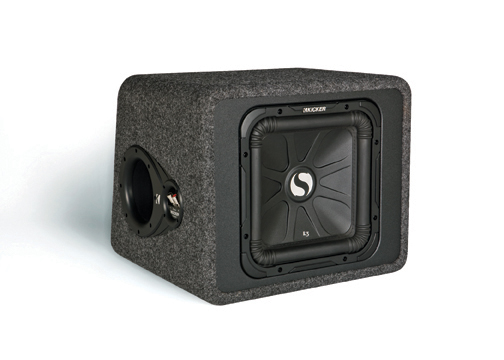 recessed port share the same space; the thin-profile TS10L3 Sub Box uses a standard slot vent. Both single-woofer boxes are available in 2 or 4 Ohms The dual box is available in a 2-Ohm impedance.
Certified Authorized KICKER Dealers nationwide expertly install KICKER gear into any vehicle for outstanding musical or video entertainment during a drive.
KICKER Performance Audio products, a division of Stillwater Designs and Audio, Inc.®, are available for the mobile and home audio aftermarket at authorized dealers worldwide, and also through selected Original Equipment Manufacturers. Consumers needing more information on KICKER or Livin' Loud® may call the Consumer Information Line at 1-800-256-5425 or visit the brand Web site at www.kicker.com. Follow KICKER at facebook.com/kickeraudio and twitter.com/kickeraudio.
KICKER Solo-Baric L3 Dual- and Single-Sub Boxes


Model                                                   TS10L3               VS12L3                 DS12L3
Type                                                     thin-profile         single                   dual
Number of woofers and size (in, cm) (1) 10, 25            (1) 12, 30              (2) 12, 30
Impedance (Ohms)                             2 or 4                  2 or 4                    2
Power handling watts, peak/RMS      800/400               800/400                 1600/800
Sensitivity (dB 1w/1m)                        85.3                     86.3                       89.3
Box Top Depth (in, cm)                      6-11/16, 16.9       14-11/16, 37.2       16-3/8, 41.5
Box Bottom Depth (in, cm)                 10, 25.4               18, 45.7                 19-9/16, 49.7
Box Height (in, cm)                             15, 38.1               16, 40.6                 16, 40.6
Box Width (in, cm)                              21-1/2, 54.6         18-3/4, 47.5           32-3/8, 82.2