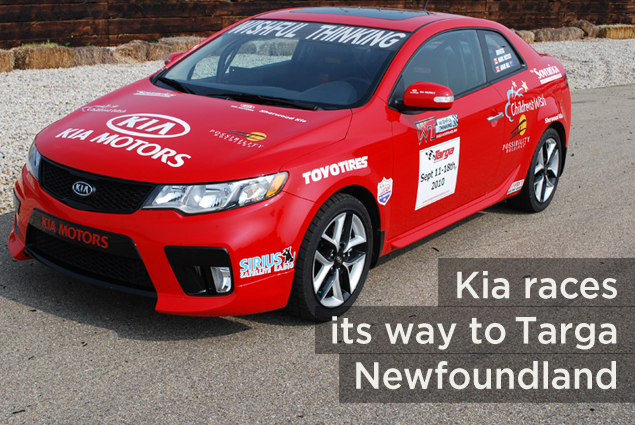 Mississauga, ON, September 8, 2010 – Kia Canada Inc. is back competing in the 2010 Targa Newfoundland rally with a 2010 Kia Forte Koup which marks the official debut of the Canadian edition of motorsports for the company. In addition, Kia Canada is partnering with its dealer body and Team Wishful Thinking to raise $100,000 for the Children's Wish Foundation by the end of the rally program.

Kia Canada Inc. makes 2010 Targa Newfoundland its official debut of Canadian Motorsports Program

•    2010 Forte Koup officially launches Kia Canada's motorsports campaign
•    Kia Canada and Canadian Dealers partner with 'Team Wishful Thinking'
•    Kia Canada returns back to Targa Newfoundland for 5th time

"Kia Canada is proud to showcase the 2010 Kia Forte Koup at Targa Newfoundland as its official return to this, world class event" said Maria Soklis Vice-President and Chief Operating Officer (COO) Kia Canada Inc. "I'm certain this vehicle's DNA will resonate with motorsport fans throughout Canada"

Targa Newfoundland 2010 provides a natural extension to the current US based motorsports program that was revealed late 2009.  Kia Motors America revealed its US motorsports program by teaming up with the Kinetic Group to build and campaign two Forte Koups in the 2010 Grand-Am KONI Sports Car Challenge Series in the Street Tuner (ST) class. For the second time in less than a month, Forte Koups are back on the road competing in Canada. On August 13-15 at the Grand Prix de Trois-Rivières both Team Kinetic Koups made a stop at the tour.

The 2010 Forte Koup has been entered into the Modern Division of Targa driven by Adam Hill who originally hails from Perth Austrailia and now calls Vancouver home and Mark Kostick of Edmonton Alberta. Both competitors are competing under the banner for Team Wishful Thinking as part of a partnership to raise $100,000 for the Children's Wish Foundation. Both Kostick and Hill partnered with Kia Canada for this cause.

Kia dealers across Canada have joined the fundraising effort by committing a portion of the proceeds of each vehicle sold between August 16 and September 18, 2010. "Kia Canada retailers across Canada are behind us on this endeavor" said Mark Kostick. "They want to see the car perform well and understand that the Children's Wish Foundation is a great charity".

The 2010 Forte Koup finished in 'racing red' was donated by Kia Canada for the 2010 Targa Newfoundland rally. Sherwood Kia in Edmonton, Alberta modified the vehicle to make it 'rally ready' for specific class. The new 2.4-litre Forte Koup promises to uphold the family tradition, with a mix of power, handling and durability ideally suited to the rigors of a week of competition.


After competing in Targa, the vehicle will tour the vast majority of autoshows in Canada and will be located in the brand new Kia Canada display for the 2011 autoshow circuit. In early spring 2011, the vehicle will be auctioned-off and all proceeds will be donated to The Children's Wish Foundation.

Kia was among the earliest corporate supporters of Targa, fielding a then-new Kia Rio for the media team of auto writer Bob English and local radio personality Ken Ash in the inaugural Targa Newfoundland in 2002. Over the next three years, Kia cars won class honours for the company several times.


Follow the Koup and Team Wishful Thinking daily experience at the following:

www.kia.ca/targa

Donations to the Targa fund raising efforts can be made at

http://www.childrenswish.ca/targa .

Kia Canada Inc. (www.kia.ca) -- a maker of quality vehicles for the young-at-heart -- is a subsidiary of Kia Motors Corporation (KMC) in Korea was founded in 1999 and sells and services high quality class leading vehicles like the Soul, Forte and Sorento through a network of 168 dealers nationwide. Kia Canada Inc. employs 135 people in its Mississauga, Ontario headquarters and four regional offices across Canada. Kia Motors Corporation's brand slogan -- "The Power to Surprise" -- represents the company's global commitment to surpassing customer expectations through continuous automotive innovation.

More about Targa Newfoundland

Owned and operated by Newfoundland International Motorsports Limited, Targa Newfoundland is one of three internationally recognized Targa motorsports events in the world. The 9th annual Targa Newfoundland will start in St. John's on Saturday, September 11, 2010, and end back in the capital Saturday, September 18. The competition will cover more than 2,000 kilometres of the challenging, twisty roads of the central and eastern portion of Newfoundland, including up to 450 kilometres of closed-road, flat-out Targa stages. Competitors have come from the U.S., Australia, New Zealand, Ireland, Holland, Germany, the Bahamas, Turks & Caicos and the U.K. for the first editions of Targa Newfoundland and international interest continues to build with competitors registering daily.