Recently Patented, This Tactical-Inspired Body Cladding is Equipped with Multi-Function Integrated LED Lights that Provide Benefits to Both Driver and Passengers as a Stylish and Functional Upgrade for 2007-2018 Jeep Wrangler JK Models
METAIRIE, LA, Nov. 1, 2021 – Oracle Lighting (www.oraclelights.com), the market leader in creating high quality lighting products and innovative LED solutions for the automotive aftermarket, will feature its recently patented Sidetrack™ LED Lighting System for 2007-2018 Jeep Wrangler JK (p/n 5873-504) during the 2021 SEMA Show, held in Las Vegas, Nev. from Nov. 2-5 at the Las Vegas Convention Center, booth #C20547. Now shipping, the Sidetrack™ LED Lighting System has an MSRP of $199.95 and is also available for JL/JT (p/n 5861-504).
"ORACLE Lighting's Sidetrack™ LED Lighting System is a stylish and functional upgrade for Jeep Wrangler JK models," said Justin Hartenstein, Oracle Lighting director of development. "This tactical-inspired body cladding is equipped with multi-function integrated LED lights that provide benefits to both driver and passengers."
The light modules consist of a pair of injection-molded inserts that fit in the original body lines for a seamless look with an option to create a functional fender vent. Matte black panels provide an aggressive look that adds a rugged and tactical appearance to the Jeep. Installation requires no modification to the fender sheet metal…the cladding simply applies with included VHB adhesive.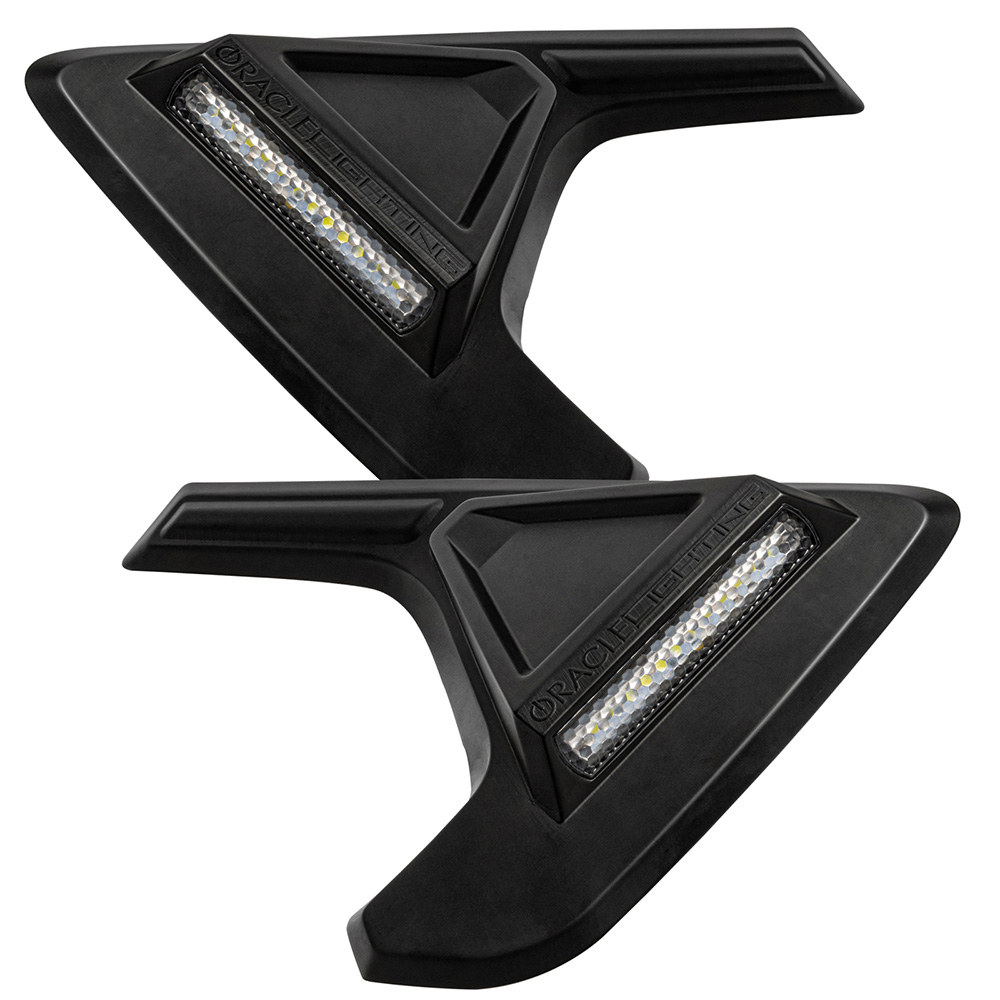 The LED "Entry Light" features high-output white LEDs which is a side-light intended to illuminate the area outside of the vehicle for the driver and passengers approaching the vehicle at night. This convenient feature allows the driver and passengers to identify puddles, potholes, and other hazards when entering and exiting the vehicle. The entry lights are connected to the vehicle's dome light circuit so the entry lights will activate when the vehicle is unlocked, when the doors open, and can be manually turned on with the factory control knob.
The LED "Turn Indicator" addresses a potential safety issue with the U.S.-spec Jeep Wrangler JK models which do not have a clear indicator on the side of the vehicle. This can be inconvenient when changing lanes with a vehicle is positioned in the Jeep's blind spot…this blind spot is increased substantially on lifted vehicles. By adding a bright amber indicator in a clearly visible position, the Sidetrack™ provides a needed visibility benefit for lifted Jeeps.
Louisiana-based Oracle Lighting has been designing innovative lighting products and technologies for the automotive/12Volt, powersports, motorcycle, and marine markets since 1999. Oracle's philosophy is this: in today's world of fly-by-night vendors, we think it is important to partner with businesses that you can trust to be there for you today, tomorrow, and for years to come.
For more information on Oracle Lighting and its full product line, please visit www.oraclelights.com, call (800) 407-5776, or email This email address is being protected from spambots. You need JavaScript enabled to view it..