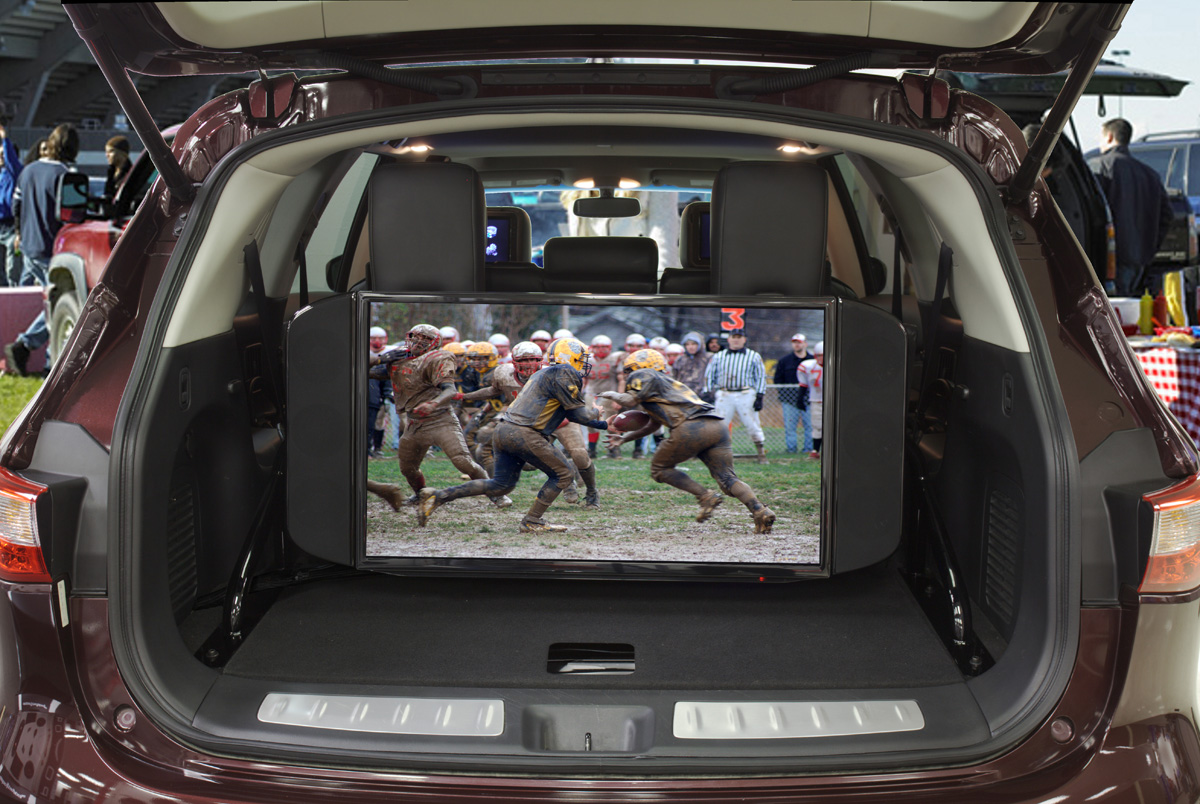 Rockford Corp, the industry leader in high-performance car audio systems, is proud to announce the exhibition of an advanced technology demonstration vehicle during its product showcase at The Palms Casino Resort in Las Vegas, Nev. from Jan. 8-10, 2013, in The Palms Ballroom.
"The demo vehicle includes state-of-the-art technology systems in the areas of connected rear-seat entertainment, ultra-premium audio, and tailgate A/V entertainment," stated Dan Vandenbergh, Rockford Corp. managing director of OEM. "Working with corporate partner Blaupunkt, Rockford Corporation's OEM Engineering & Development group has combined these technologies and integrated them into a single system that demonstrates the future of connected in-vehicle entertainment."
The connected media system features two key components: the media server and display. The media server is the audio/video and data connection hub. Internet connectivity is managed via a 4G modem and is shared with the entire vehicle as a secure WIFI hotspot. Up to 130GB of onboard audio and video media can be shared using industry standard DLNA media sharing technology, allowing all recent tablets, smartphones, laptops, and SmartTVs to automatically connect, discover, and play back available media. Home-sync function allows the server to automatically connect to and sync content with a computer while parked at home. Finally, the media server employs a patented methodology to live-stream internet radio stations to the vehicle's car radio. This technology is compatible with all existing car radios that support standard USB media playback.
The demonstration vehicle features two advanced technology touch-screen displays for use by second row passengers. These displays are based on a custom-developed hardware architecture that is suited to the automotive environment. Based on the Android platform, the system is flexible, supporting the full array of Google Apps. The high definition displays employ advanced Neonode optical touch-screens that function like traditional touch-screens, but also work with gloves or fingernails and are more passenger-friendly in safety situations. In addition to playback of content from the internet, the displays also employ DLNA technology to discover and playback content stored on the media server.
For listening enjoyment, Rockford Corporation's OEM engineering team developed an ultra-premium 19 speaker, 16 channel audio system. Featuring 1300Watts (RMS) of full-range, high-efficiency Class-D power, the amplifier includes the ultra-high power Texas Instruments Jacinto 5 processor. "Only a few amplifiers in the world contain this amount of processing power," stated Mike Cozza, Rockford Corporation OEM technology manager. "This allows us to fine-tune the audio experience in ways that were unimaginable five years ago." Taking advantage of this power, DIRAC sound-field management technology was employed to create both an audiophile and dual-zone listening mode. The dual-zone mode includes noise cancelling technology so the front-seat passengers can enjoy their dynamic, full-range audio while the second row can be immersed without interruption in their own content.
The tailgate entertainment system includes a 32-inch SmartTV mounted to existing vehicle hard-points and integrated with an eight speaker, 7-channel audio system. Including dual 10-inch subwoofers and an array of six 3.5-inch coax speakers, the system provides 450Watts (RMS) of DSP tuned entertainment power. "We had a lot of fun with this," added Vandenbergh. "Tailgate entertainment means having a party. And if Rockford Corp is involved, you know it's going to be big – that's how we roll."
Since the system includes a Smart TV, it's connected to the media server and, thus, the Internet, allowing live-streaming of pre-game video, live score updates, as well as full access to the on-board content. "We wanted to make this both fun and practical," stated Cozza. "It's also designed to be easily removed with low weight and simple connections."