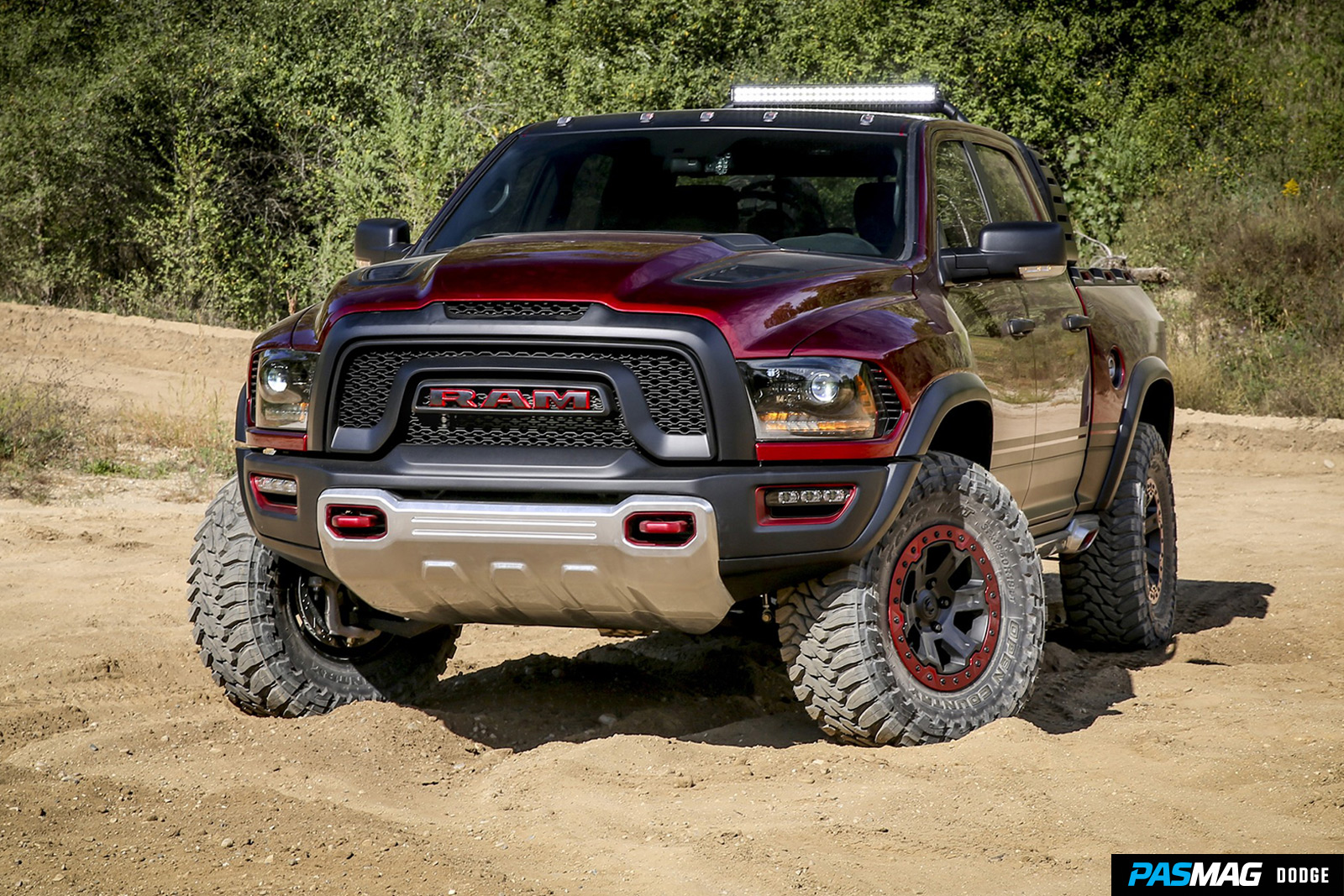 The Dodge Ram Rebel looks to be headed in an even more extreme direction. Heads were certainly turning at the Texas State Fair when Dodge revealed an off-road warrior unlike any truck we've seen before.
Wildly aggressive styling cues like 5-inch side-exit exhaust pipes, the massive 37-inch tires beadlocked to 18-inch wheels, and a bed-mounted lockable storage complete with tools and 2 spare tire/rim packages were enough to draw in any nearby truck fanatics, but the Rebel TRX is so much more than your run of the mill off-roader package for a base truck.
The Ram Rebel TRX is an engineering marvel by any standards.
Packing a de-tuned 6.2L supercharged HEMI found in Dodge's Hellcat models and an eight-speed automatic transmission optimized for high-speed off-road driving, this truck is all business.
Even calling the engine "de-tuned" sounds a bit misleading, as it still produces a mighty 575 horsepower, and presumably enough torque to separate houses from their foundation. Using Ram's 4x4 Performance Control System and a BorgWarner 44-45 transfer case, the combined system can be set to four different modes of operation: Normal, Wet/Snow, Off-road, and Baja. You had me at Baja.
Traction is maintained amidst all that power output thanks to an electric, selectable locker between the Dynatrac Pro 60 rear axle and the 35-spline, 1.5-inch axle shafts. This locker, available in all four driving modes, locks both rear wheels to traction at the same speed, and spreads the torque load efficiently to maximize tractive effort at full-throttle. Fender flares widen track width by six inches combined, and those previously mentioned 37-inch tires measure 13.5-inches wide, complete with an aggressive off-road tread pattern and 10-ply design.
Suspension and handling receives an off-road ready update as well thanks to a 40% increase in suspension travel, custom upper and lower A-arms, and a best-in-class link coil rear suspension system that shares several properties with that of the fastest off-road trucks in desert racing.
Overall, wheel travel is increased to more than 13 inches, and a forged steel brush guard protects your undercarriage in tandem with a full-length rock rail in the event you exceed the travel capacity's limits. Baer six-piston brake calipers take care of stopping power both up front and in the rear, with 15 and 14-inch rotors respectively.
Just about every aspect of the truck screams "desert race truck", even inside. All four seats are equipped with upper bolsters and sex-point harnesses anchored to a sport bar spanning from B-pillar to B-pillar. The team behind the TRX even went to far as to install nylon-strap door pulls for ease of exit. Despite its race-ready nature, the concept truck still seems at least somewhat civil as a daily driver, with amenities to go. The harness anchor bar is designed to allow maximum seat travel. The seats and center console are black suede, accented with Header Red stitching. There's even an 8.4 Uconnect system, as well as a custom camera mount located on the rear-view mirror.
One look at the Rebel TRX is all you need to know that this truck is a serious contender in the category. Since its debut, it has garnered more attention than any concept truck we've ever followed, and several people seem ready to break out their checkbooks and trade in their current trucks. We can only hope FCA has the stones to drop the word "concept" from this mean machine's nameplate.