Ffff...Ffff. Sorry, just blowing the dust off the old test bench. It has been several years since I handed the reigns over to Garry Springgay for PASMAG test reports, but I miss it – and with Garry travelling all over North America on his motorbike for a few weeks, I've managed to sneak in to check out some products. The lads at Gentec (the Canadian distributor for Alpine products) sent me a CDE-HD149BT single-DIN CD player to check out, so let's dive right in.

Features
Connectivity is where it's at, and the CDE-HD149BT doesn't disappoint. The built-in Bluetooth allows audio to be streamed from your BT-equipped phone so you can take calls while keeping your hands on the steering wheel. The pairing process is very easy with my iPhone. I simply search for the deck, select the Alpine CD receiver on my phone, and accept the connection when the deck asks - that's it. I start by playing a song and to my delight, the deck displays the track time information along with the song title and artist information. There are fast-forward and rewind controls as well. Alpine also includes an external Bluetooth mic for hands-free calls – this optimizes sound quality for the driver (depending on the dealer, it might cost you a few extra bucks during installation, but could be worth it).
| | |
| --- | --- |
| | |
Next, I plug my iPhone into the rear USB port. After a second it starts charging. A couple taps on the source button brings up a song and, again, I can see track title and artist information. If you tap the "view" button on the right, you see the album name and a large clock display. Tap the volume control to quickly and easily start searching for music by album, artist, etc. Alpine rates the USB output at 1 amp of current, so most phones will charge just fine – but you can't charge an iPad.
It's time to see how it handles Pandora. I launch the app on my phone and select Pandora from the source menu. Again, the CDE-HD149BT is easy and intuitive to use. While my phone is an Apple product, Alpine notes that Pandora supports Android-powered devices as well.

Listening
Of course, the CDE-HD149BT includes a CD transport equipped with a 24-bit D/A converter. Compared to 1-bit DACs, 24-bit converters offer better sound quality, which is especially apparent in the mid range and high-frequency range. Don't think for a moment you can't hear the difference. I have switched between similar models with and without 24-bit DACs, and even on factory speakers in my old WRX, there is a night and day difference. The CDE-HD149BT is a flip-face radio, so the CD loading slot is behind the face. This design enables Alpine to include a nice large white-on-blue LCD display with a resolution of 256x64 pixels.
Delving deeper into the deck and its setting and configuration features is Alpine's new TuneIt compatibility. This system uses an iPhone or Android app (free of charge) to give you control over many of your source unit settings, including a powerful 9-band parametric equalizer, time alignment/delay settings, crossovers, and balance and fade controls. You can even save these settings on the Inter- net and share them with others – so cool!
In terms of settings, the 9-bands of the EQ overlap, so you can fine-tune quite easily. You can cut or boost each band by seven steps, and can control the Q of each band with settings of 3, 4 or 5. Some lower Q-Factors would be ideal, but that is really nit-picking. Each of the six pre-amp outputs has its own time delay adjustment. You set the distance from the listening position in 3.4-cm (1.33 inch) steps. The crossovers are independent for front, rear and subwoofer outputs and each are flexible in terms of frequency – from 20 Hz to 200 Hz in slopes of 6, 12, 18 and 24 dB/Octave. You can also reverse polarity on the subwoofer level control.
On the rear of the radio are a plethora of connections – six RCA jacks on the chassis of the radio and the Motorola AM/FM connector beside them; 3.5-mm jacks on the chassis for the Bluetooth microphone and the steering wheel control interface connection, and another 3.5-mm aux-in jack for external audio sources. The power harness features industry-standard ISO wire colors and offers a dedicated power antenna and remote turn-on output. Just don't mix these up (it happens all the time). Lastly, there is a jack for an external SiriusXM tuner module.

On the bench
I connect the CDE-HD149BT to my [now less dusty] test bench to take some frequency response and power measurements. In terms of power, the deck produces 8.49 Vrms per channel into a 4 ohm load at about 1% distortion. This equates to 18.02 watts per channel, compliant with the CEA-2006A specification. The preamp outputs are rated at 4 volts per channel. I measure 4.05 Vrms with no signs of clipping at all. Frequency response of the deck is -3 dB at 14.3 Hz to 23kHz,and -1 dB at 26Hz to 22.5kHz.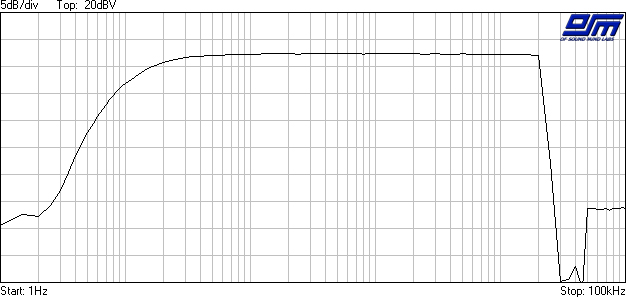 Conclusion
Alpine has paved the way for a new level of creativity when it comes to tuning. Being able to alter the settings via the iTunes App Store or Google Play Store app makes tuning faster, more engaging and more intuitive. The ability to share tuning settings between users of the same deck via Alpine's TuneIt cloud is also awesome, as is the ability of your dealer to troubleshoot settings that may have been altered.
Hopefully this means people will spend more time making their vehicles sound as good as can possibly be. In terms of connectivity, the CDE-HD149BT has everything you could ask for from a single-DIN CD receiver. If you are in the market for a new CD head unit, you owe it to yourself to visit your local Alpine dealer.