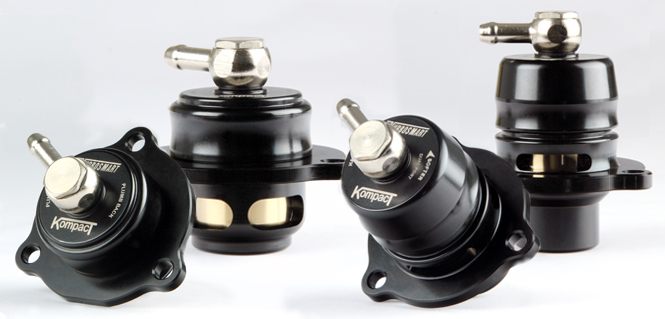 SMALLER, SMARTER AND MORE VERSATILE THAN EVER BEFORE
Turbosmart's Kompact Shortie blow off valve range is back, and better than ever. Like the previous model, more commonly known as the BorgWarner/KKK/Volvo valve, the new valves offer increased boost handling capabilities and reliability over the OEM compressor-cover style units they replace. The valve is available in PlumbBack or Dual Port models.
You spoke, we listened. We found that there were more applications this blow off valve would fit on, if only it were a bit smaller, so we made it as small as possible. That means easier installation into a greater variety of machines.
Like all Turbosmart blow off valves, the new Kompact Shorties have been machined in-house, from solid billet aluminium. Keeping the process in-house, ensures only the best quality, and none of the cracking or leaking that plague the factory plastic valves. Like their predecessors, they've been engineered with a light-weight, brass/aluminium, two-piece piston. Carefully engineered springs make these the most responsive valves of their kind.
The Kompact Shortie fits a huge range of turbos, and their tiny dimensions make them a breeze to fit. To make things even easier, Shorties are supplied with both a swivel "banjo" nipple and a straight nipple, meaning you can tailor the valve to better suit your application. Larger o-rings have been fitted in the base to aid ease of installation – another modification made after talking to our authorized dealers and installers.
Small design means Shortie is easy to install. All billet construction, and well-designed internals mean it will hold as much boost as you want to throw at it, for as long as you need it to. The Plumb Back version is as quiet as a factory valve, or if you're looking to make a little noise, the Dual Port version's superior flow characteristics will safely provide that BOV sound you're looking for. The new twin fixed ports flow more than ever before. You just can't lose with Turbosmart's Shortie.

Pricing (MSRP): Kompact Shortie – Plumb-Back - $169.99
Kompact Shortie – Dual-Port - $189.99

For applications and images click here:
TS-0203-1261 Kompact Shortie - Plumb Back
TS-0203-1061 Kompact Shortie - Dual Port
Contact Turbosmart USA on (909) 476-2570 or This email address is being protected from spambots. You need JavaScript enabled to view it.