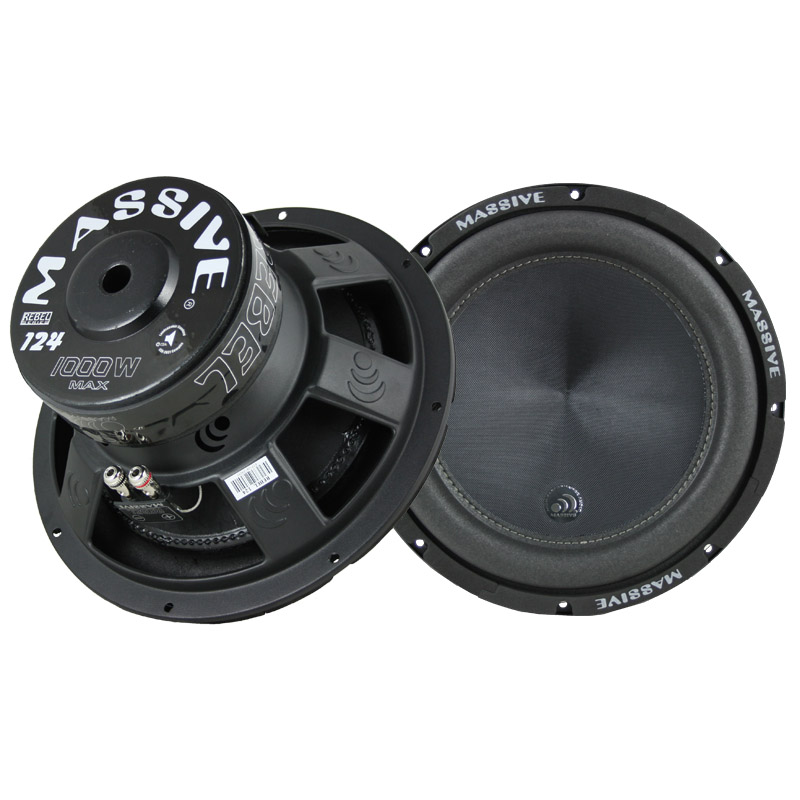 Massive Audio didn't build the "Rebel 124" subwoofer because we had another product. We built it because we could. The Rebel stands alone! Different from the rest, a true outcast and the 2013 Massive Rebel 124" is in this class.
All "Rebel" upgrade features include Dual 4 / 2" CCAW voice coils that feature 50mm winding length, even though traditional woofers only incorporate a 20mm winding length. All on an aluminum former with reinforced neck joints, 5 way binding posts with push or banana nickel plated terminals, twin poly-cotton dual roll spiders with woven round tinsel leads, dual wave roll surrounds and FEMM engineered motor plates with a white zinc finish.
All "Rebel" Series woofers have a woven poly glass fiber caped UV treated paper cone that is beautifully stitched to the surround. The powder coated heavy duty stamped steel basket and high energy double stacked 120oz high ferrite stacked strontium magnet structure provides power and lower resonance.
Owning a pair of "Rebel" Series subwoofers proves to everyone that you won't settle for the status quo! So get in, buckle up and turn it up with Massive Audio "Rebel Series" Deep Cycle Subwoofers.
REBEL 124 ~ M.S.R.P = $249.95